---
News
---
Christmas and New Year Holiday Break Notice ( 2023-2024)
Hi everyone, just let you know that our holiday break this year will start from 08/12/2023 till 08/01/2024. There will be no any oder from our online shop posted during the period, but we will send it out as soon as possible once we got back. We are sorry for any inconvenience it may cause to you. Thank you.
May you have a peaceful and relaxing Christmas and a Happy New Year.
Lots of love from all of Dragon Brothers xxxx

26/11/2023


---
Light, Soft, Breathable, Wear Resistant, High Quality, Very Comfortable Tai Chi Kungfu Shoes (Brand New) Available now!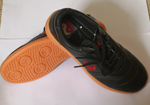 Light, soft, breathable, wear resistant, very comfortable high quality of Tai Chi Kungfu shoes are available now!!! Please click

Tai Chi Kungfu Shoes

here for more information. Thank you.






01/08/2023


---
Key Categories
---
---
Tai Chi DVDs and Other Kungfu Products
---
We offer a full selection of Chinese martial arts DVDs and other Chinese cultural related products on this online website , which include Tai Chi in Quan, Sword, Sabre, Spear, Tai Chi Applications DVDs, covers tai chi in different styles such as Chen, Yang, Sun Wu, Wu(Woo), and were demonstrated or performed by these styles' direct-line inheritors such as Grandmaster Chen Zhenglei (Chen style), Yang Zhenduo (Yang style), Sun Jianyun (Sun style) etc, which also include Shaolin, Qigong, Xingyi, Baguazhang etc other wide range of Chinese martial arts DVDs. It also provides Taichi Videos, Taichi or Qigong Books, music, Taichi Kungfu Suits, Tai Chi weapons such as Sword, Sabre and Tai Chi Fan on this website. In addition, it has Chinese Language Learning DVDs/MP3/MP4/BOOK, Chinese Massage, Chinese Medicine (TMC) DVDs and other Chinese culture related products (e.g. Chinese bracelet, hairclip, and lady's pocket mirrors) available. Please refer to our (Site Map) to easily understand this website. Thank you.
---